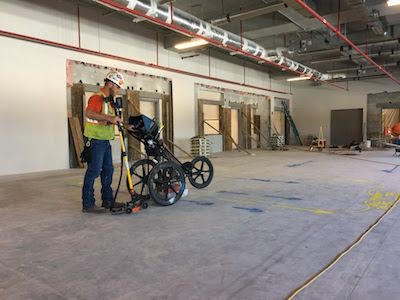 GPR and Radio Detection Locates Utilities and Steel Structural Support
Icon Identity Solutions had a project at the Southwest Florida International Airport in Ft. Myers, Florida which involved them anchoring two signs into the floor of a concrete parking garage. They decided to contact Ground Penetrating Radar Systems to ensure that they would be able to safely drive the anchors without striking any utilities or steel structural support that may be in the concrete. Icon had used GPRS's services in the past and knew that they could provide the desired results quickly, accurately, and safely.
GPRS quickly informed them that with their technology it should not be difficult to locate areas for them to safely anchor their signs. GPRS mobilized to the site and was able to complete the survey in about an hour and a half. Within that time they used ground penetrating radar and radio detection to precisely locate all rebar in the concrete and verify that no utilities were present in either of the areas.
In this photo you can see Adam double checking his final markings of utilities beneath the concrete with his 1600 MHz antenna. If you are interested in obtaining more information or a quote please visit out "Contact us" page for a local representative near you.