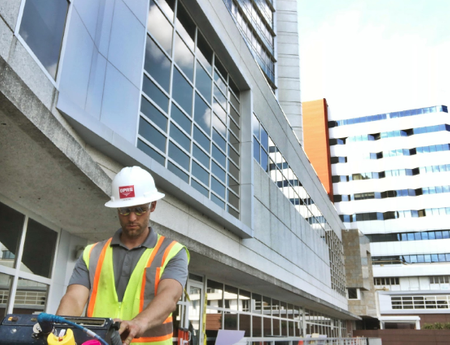 GPRS Scans for one of the largest hospitals in Orlando, Florida
Hospitals and the medical industry in general have a lot to keep up with. Our country has one of the largest medical industries in the world and one of the most advanced. With a growing industry, changes must be made to facilities to accommodate for new technology, bigger wings and more business.
The staff at one of the largest hospitals in Orlando recently decided to take added measures and expand one of the wings of their hospitals. Part of the plan involved deconstructing a wall that is topped with a sidewalk and contains known utilities running inside of it. Although they have drawings for this site, the construction team wanted to make sure they were not going to hit any underground utilities when deconstructing the wall. Fortunately, the construction team had worked with a company that specializes in locating utilities. They reached out to Ground Penetrating Radar Systems, Inc., also known as GPRS. GPRS is known for its ability and expertise in locating and identifying underground utilities and , scanning concrete, among other things.
The wall GPRS scanned is a relatively unique utility locate as the client wanted to scan not only for utilities but also for items contained in the concrete structure itself. Fortunately, GPRS is used to handling projects like this. The plan was to locate utilities from the top of the sidewalk and then scan the concrete along the side of the wall for conduits or other anomalies present such as post-tension cables or rebar. This ensured that all utilities that were able to be located, were located. To locate the utilities, the GPRS team member uses a variety of equipment. They use a combination of an EM pipe locator and two different GSSI manufactured radar antennas, designed to locate subsurface items. The area in question was scanned and all findings were marked on the concrete with either markers or spray paint. After marking out the utilities, the GPRS team member was to send a job summary report to the client summarizing the findings. Each time a location is marked out the GPRS team member will send site photos and the job summary report after the job is completed.
After days of this process the demolition crew is still working day after day to get this area prepared for the new wing to be added. The construction team is happy to have the information of what is below the surface. GPRS continues to work hard to provide safe work environments for construction companies, directional boring companies, core drilling teams, renovation teams and so on.
To the right you will see a picture depicting Nate Schmoe, of GPRS, Inc. scanning an area on top of the wall using a GSSI underground antenna. Reqest a quote today by clicking here.
GPRS does not provide geophysical, geological, land surveying or engineering services. If you need such services, please contact an appropriate professional.