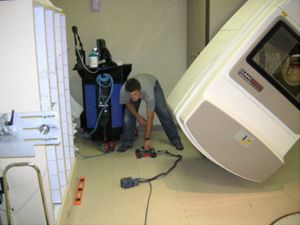 Ground Penetrating Radar Florida: Sharp General Contractors
When Sharp General Contractors of Pompano Beach, Florida needed to saw cut two trenches into an existing concrete slab on grade without hitting any electrical conduits or utilities they contacted GPRS, LLC. of Orlando, Florida. Two new electrical conduits needed to be run to the base of a new piece of medical equipment called an ExacTrac at a local hospital in Lauderdale Lakes, FL. Sharp General Contractors was contracted to perform the installation of the ExacTrac and this included the saw cutting. They decided to contact Ground Penetrating Radar Systems to make sure they did not strike/hit any utilities that might be in contact with the bottom of the concrete. This is a great application for GPR because the technology not only allows us to pin point the exact location of potential conduits and utilities but also provides an approximate depth to the top of the pipe located. Radar provides the approximate depth which in turn lets the concrete cutting company know where they need to raise or lower their saw blades to avoid costly and dangerous utility strikes. Also, being that this location was an active doctors office ground penetrating radar was the proper technology because there are no harmful effects emitted from the radar unit.
On site GPRS surveyed the two trenches and located a potential pipe beneath the concrete. Chris Moore with GPRS marked this on the surface and provided a depth to the top of the possible utility to ensure the concrete cutting company would not hit it. GPRS was also able to survey the trenches and determine if there was any live power near the trench locations. This was accomplished using an RD-7000 (radio detection unit). At least one live power location was found and the mark outs and "live" power demarcations were extremely helpful prior to the saw cutting. All in all the survey was a success and Sharp General Contractors was able to cut the concrete without concern of hitting any electrical conduits or utilities. This certainly saved them from the costly expense to repair a severed electrical conduit or broken utility pipe.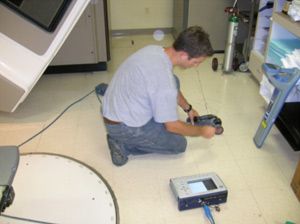 Chris Moore runs GPRS operations in the South Eastern United States. He is based in Orlando, FL and he can be reached at (321) 331-2127 or by email at chris.moore@gprsinc.com. Concrete scanning and surveying is a common application performed by the GPR technicians at GPRS.