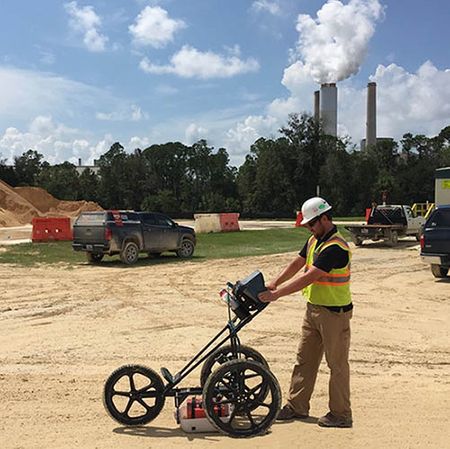 Private Utility Locate at Power Plant
In September, Ground Penetrating Radar Systems, LLC. (GPRS) was contacted by a construction company in order to locate utilities at a power plant in Crystal River, FL. The construction company needed utilities located, marked out on the surface with paint, flags, and a depth. After marking out all utilities, the contractor needed all findings put into a cad map file for the company to have on file. The contractor contacted GPRS of Tampa to perform the GPR and GPS mapping needed for this project. The contractor needed this project completed in order to be able to expand their operations area.
Isaiah Runkle of GPRS was contacted in order to perform the survey at this location. Using our 400MHz antenna and RD7000 radar equipment, we scanned each area of concern. We were able to map out all needed buried utilities. All located utilities were marked with paint, flags and a depth to the top of the anomaly directly on the surface. After all areas of concern were located and marked out, I clearly relayed the findings to the onsite contact. The contractor was pleased with our results and felt relieved to know where the utilities were located, and at what depth each utility was prior to excavating.
Upon arriving onsite, I met with the contractor and went over the areas of concern that needed utilities located. I then scanned each area in a north/south, east/west pattern with the RD7000 for any power or communications. I then used the GPR 400MHz antenna to scan each area in a north/south, east/west pattern to locate the exact location and depth of the utility. I marked out all located utilities with paint, flags and a depth. I color coded each utility accordingly. Red-power, Orange-communications, Blue-water, Yellow-gas, Green-storm/sewer, White-unknown utility. I then used our Trimble Global Positioning System, (GPS) technology to locate the coordinates of each located utility. We then took this information and put it on a cad map file for the contractor.
To the right is a photo taken on-site which depicts Isaiah locating utilities running through the area of concern using the 400MHz antenna.