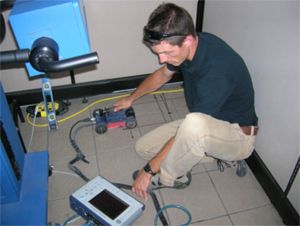 Florida Industrial Electric GPRS Project at the Orlando International Airport
Florida Industrial Electric performs multiple projects every year at the Orlando International Airport. The projects range from installing simple floor outlets to complex DAS upgrades to the 4 different airsides at OIA. Florida Industrial Electric continues to use Ground Penetrating Radar Systems for their entire elevated concrete slab locating services. GPRS consistently provides information on what reinforcing steel and electrical conduits may be in the concrete to ensure that FIE protects the structural integrity of the airport and avoids costly shut-downs that can occur from hitting a conduit.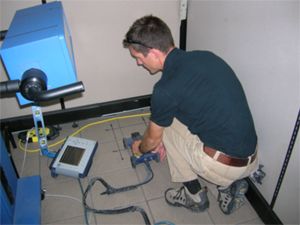 These pictures show Chris Moore of GPRS marking out a core drilling location. The area is found in the main terminal where reinforcing steel can vary from 6"x6" welded wire mesh to 12" on center reinforcing steel. Conduits are also frequently found running through the concrete as well. Using ground penetrating radar GPRS was able to layout and find a safe place for Florida Industrial Electric to drill. The project was completed successfully and on time without concern of striking an unknown object in the concrete.
Chris Moore runs GPRS operations in the South Eastern United States. He is based in Orlando, FL and he can be reached at (321) 331-2127 or by email at chris.moore@gprsinc.com. Concrete scanning and surveying is a common application performed by the GPR technicians at GPRS.