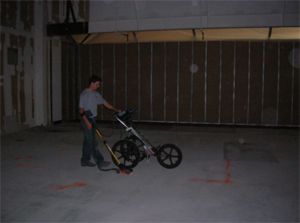 Ground Penetrating Radar Florida: ICS Melbourne
When Industrial Commercial Structures of Orlando, Florida needed to saw cut and excavate roughly 3,000 square feet of concrete without hitting any of the existing utilities buried beneath a 6" concrete slab at the Melbourne Mall they contacted GPRS, LLC of Orlando, Florida. ICS was just getting started with a tenant build out at the mall. The build out required that a large section of the existing concrete be saw cut and removed so new plumbing and electrical lines could be installed. There was concern on the part of ICS and the Melbourne Mall that unknown utilities would be cut or damaged during the saw cutting and removal process. Ground Penetrating Radar Systems places a high priority on customer service and accuracy in results and was willing to do what it took to get the work done for ICS.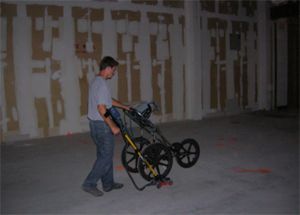 On site GPRS was able to survey and locate the entire 3000 square foot area in one day. All possible utilities found were marked on the surface with orange paint so the contractor and the concrete cutting company would know where the potential hazards were located. Also, Chris was able to plot the lines on a plan view so they would be recorded for future reference. Utility locating is a common application for GPR and this job was no different. The combination of ground penetrating radar and radio detection make for quick and accurate results as was discovered by ICS as they did not hit any electrical conduits, water lines, sanitary sewers, etc. The job was a success.
Chris Moore runs GPRS operations in the South Eastern United States. He is based in Orlando, FL and he can be reached at (321) 331-2127 or by email at chris.moore@gprsinc.com. Utility locating and surveying is a common application performed by the GPR technicians at GPRS.