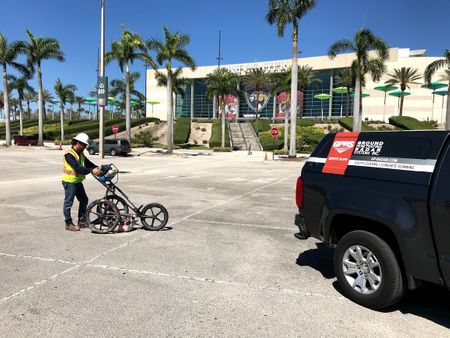 Ground Penetrating Radar Systems Concrete Slab Scanning
Post tension cables, electrical conduits, rebar and other structural steel, water pipes and various other objects are often found in concrete slabs. Construction companies, plumbing contractors, electrical contractors and renovation specialists are always in need of either core drilling through a slab or trenching through a slab on grade. Whatever the case may be Ground Penetrating Radar Systems has an expert level of understanding when it comes to the need to "x-ray" or radar before you go penetrating a concrete slab.
In Melbourne, FL there are constantly needs arising when it comes to this. A local plumbing contractor was tasked with relocating some existing plumbing lines. Having used GPRS a time or two before they felt confident the professionals there would be able to give them the attention needed to get through the slab without cutting anything critical and that they could locate the plumbing lines to be moved.
GPRS showed up on site and used the 1600Mhz and 400Mhz antennas to scan the floor. The professional on site scanned the entire area in a grid pattern to assure that there was no mistaking the location of the plumbing. Contractors only like to cut through a slab once if they can avoid it. After mapping out the areas the GPRS professional used markers to indicate where the plumbing was located. These findings were then relayed to the site contact to ensure all information was accurately communicated. The client was able to penetrate, cut and trench in the areas scanned without hitting or cutting any electrical conduits or critical structural steel. The client expressed gratitude on the quick turn around time and skill the technician brought to the project. Clients who use GPRS know they are getting the highest level of service when using our product.
If you would like to receive a proposal for similar work please visit the "Contact us" page at gp-radar.com.