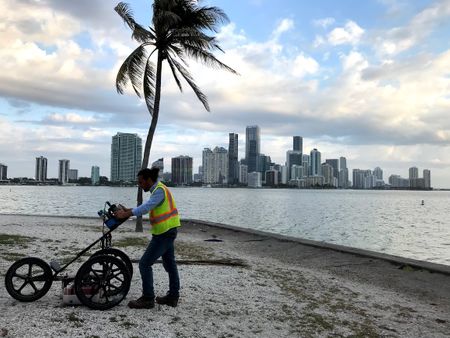 Utility Locating at the South Florida Underwater Operations Base
A contractor needed to locate some water lines at the South Florida Underwater Operations Base in Key West. The area that needed to be scanned, using ground penetrating radar, was located on a special section of Key West, Florida for The United States Army. Thus, they contacted specialists in Utility Locating, GPRS. This is an ideal application for ground penetrating radar as underground utility locating is a GPR specialty. GPRS, LLC. in South Florida took the call and mobilized to the site.
On site, GPRS was able to identify the underground water lines quickly and accurately. They marked them on the surface of the ground and provided a report explaining the results. GPRS then collaborated with the contractor as to the approximate depth and location of the underground water lines. The advantage to ground penetrating radar compared to X-Ray is that radar can locate underground and does not need access to the underside of whatever is needed to be located. The project was a success and is why radar is "The New Way to X-Ray".
It is an honor for us to work for our Army Special Forces. GPRS, LLC. has family in the Armed Forces and understand and appreciate the anonymity and security of working in such a secure area. When our men and women of the Armed Services call on us to perform simple yet critical services for them, it is an absolute privilege.
Chris Moore runs GPRS operations in the South Florida area. He can be reached at (321) 331-2127 or by email at chris.moore@gprsinc.com. Concrete scanning for the purposes of identifying the location of rebar, post-tension cables, beams and electrical conduits is a very frequent service performed by the GPR technicians at GPRS, LLC.
GPRS does not provide geophysical, geological, land surveying or engineering services. If you need such services, please contact an appropriate professional.