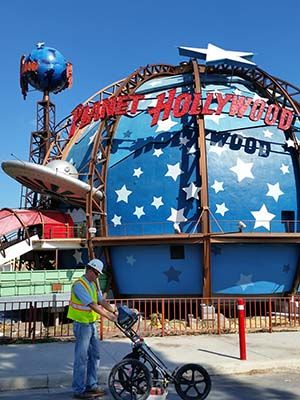 Utility Locating For New Sanitary Line in Central Florida
Ground Penetrating Radar Systems was recently contacted to locate sub-surface utilities at a local attraction in Central Florida. The scope of the project was to saw cut the road way and side walk to install a new sanitary line for a new development. It was important for GPR to be performed on this project in order to locate the sub-surface utilities below the roadway and sidewalk prior to saw cutting.
After meeting and walking the site with the contractor for just a few minutes, GPRS technicians had a good idea of where to get started and began scanning. We covered the areas requested and marked all utilities located directly on the surface with colored marking paint. We color coded the lines so the saw cutters could identify what the lines were. On each line located, we also included the depths of the utilities.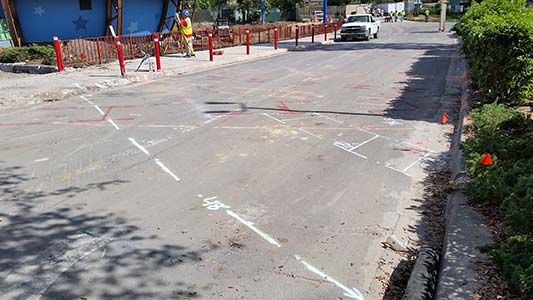 The equipment used in the scan was a three-wheeled, push cart carrying a 400MHz antenna capable of detecting objects at a depth of approximately 8' deep. The antenna relays its signal to an SIR-3000 computer system which displays the geophysical data. We also use an RD-7000 unit that uses radio detection to detect alternate current and will tell us where live power is buried.
In the picture to the right, you can see GPRS technician, Kyle Kearcher scanning for utilities in the sub-surface to provide the location of existing utilities for the customer.
If you would like a price or quote for a slab on grade, elevated slab, or structural scan to locate important embedments, please visit the "Contact us" page at www.gp-radar.com to contact your local GPRS representative.