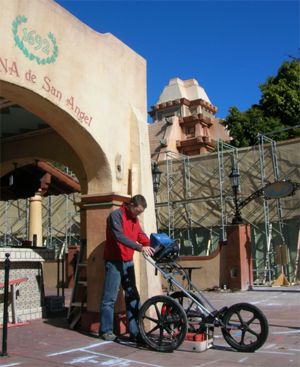 Whiting Turner Construction Co. - GPRS Project @ Disney's Epcot
Whiting-Tuner was contracted by Walt Disney to demo and construct a new attraction at the Epcot theme park near Walt Disney World in Lake Buena Vista, FL. The first phase of the project was to demo the existing "Cantina" structure to make way for the new building. This may seem like a simple, clear cut process, however, Disney's park design and utility layout can make it complicated. Whiting Turner wanted to be certain that they did not, in any way, hinder other park operations by hitting or damaging any existing utilities serving other areas of Epcot. They needed a way to ensure that they located as many active and in-active utilities as possible without disrupting the soil or soft digging. Their solution was to hire Ground Penetrating Radar Systems out of Orlando, FL.
Once on site, Chris Moore (GPRS Technician) used ground penetrating radar to non-destructively locate many of the utilities running in and around the "Cantina". Chris used a 400MHz GPR antenna to determine the location of the utilities and mark them on the surface. Approximate depth indications were also provided for each utility found.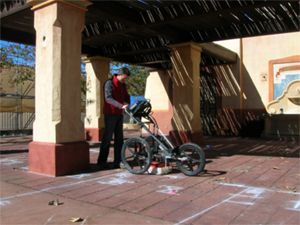 Whiting Turner was able to proceed with the demolition process knowing what utilities were in the ground. Two weeks late Whiting Turner contact GPRS with additional utility locating needs at the "Cantina" project. Chris, again mobilized to the site to perform the requested surveying. On site he discussed his findings with the project manager. The PM stated that he was impressed with the technology and its accuracy. "I was surprised to measure a utility, stated to be located at 48" deep, and find that it was 47½" deep. This was the most accurate utility locating I have worked with."
Overall the project was as success and Whiting Turner plans to use GPRS for future projects of this nature.